High Quality Milwaukee Catering Services
Milwaukee's All-Occasion Catering Service

Charlie's Catering Company has been Milwaukee's preferred all-occasion catering service for many years. Our wide selection of affordable menu options, including the ability to create a custom buffet menu, has delighted special event guests since our beginning. With a variety of Milwaukee favorites available, including fajita and pasta bars, let us handle the cooking for your next big event; whether it's a birthday party, football party, family reunion, holiday celebration, housewarming, religious celebration or small party!

Buffet-Style Catering Delivered or for Pick Up in Milwaukee
We have two convenient catering delivery options available for our customers. We can either deliver our mouthwatering food right to your location (within 75 miles of Milwaukee), or we offer convenient pickup services at our Milwaukee location. Our food is freshly prepared for optimal flavor and delivered in disposable containers for easy clean-up.
Our catering staff will set up the food buffet style, and then leave, allowing you to welcome your guests.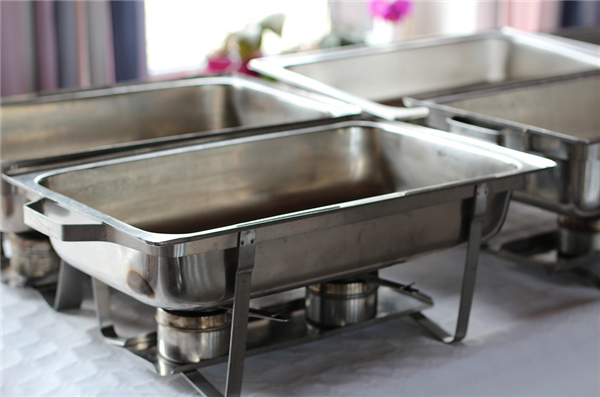 If you need station attendants, we can provide on-site food servers.
We provide top-quality catering services Wisconsin trusts for any special event. From small parties to large get-togethers, Charlie's Catering has a long list of satisfied customers--just ask to see our references.
We cater to any size party or budget, serving customers throughout the greater Milwaukee area, including Waukesha, Brookfield, Racine, and Port Washington.
Professional Wedding Caterers
Charlie's Catering offers elegant dining options to ensure you and your guests are completely satisfied on your wedding day, at affordable prices so you get to spend your money where it really matters. Our wedding caterers have a great selection of menus to choose from, some including:
Tenderloin beef
Stuffed pork chops
Regional flavor Buffets
A build-your-own bar for relaxed venues
and much more!
Our custom menus can be tailored to your taste preferences, allergies or religious dietary restrictions all while maintaining quality taste. We'll work with you to ensure the food is perfect so you can worry less on the big day.
Corporate Event Catering Services
Charlie's Catering provides a variety of menus for virtually any type of corporate event. Just a few of the events we cater include:
Board Meetings
Employee Training Sessions
Conventions
Seminars
Team Meetings
Client Meetings
Presentations
Company Picnics
No matter the occasion, your employees, clients and guests will be satisfied with our delicious food.
Catering for Bridal and Baby Showers
Charlie's Catering & Company provides exceptional catering services for bridal showers and baby showers in Milwaukee and surrounding areas. Whether you're throwing a small, intimate gathering, or want to be surrounded by tons of friends and family, we have you covered. If your group is under 10 guests, you can still order delicious food for pickup from our location. Groups over 10 guests can have food delivered to a home or business within 75 miles of Milwaukee.
Sit back and relax while Charlie's Catering & Company takes care of it all.
Delicious Food for School Events and Graduation Parties
Charlie's Catering Company is available for any occasion. Our catering for school events is perfect for PTA meetings, club events, awards ceremonies, and school dances like prom and homecoming. The food is sure to please the kids and the adults too.
Graduation is one of the biggest milestones in a person's life. Make it even more special with our graduation catering service. Let the (new) adults have fun while you relax with family and friends with quality food services from Charlies Catering.
Last-Minute Catering for Southeastern Wisconsin
Typically, 24-48 hour notice is preferred for our catering services. However, we know life doesn't always pan out the way you hope and you may find yourself needing a caterer at the last minute in Milwaukee. Charlie's Catering has you covered whether you find yourself in need of a new wedding caterer or got stuck with the job of ordering food for the office, we've got you covered.
We can even offer complete deluxe catering services. With these services, you will receive everything including linens, serving platters, china, attendants and, of course, delicious food.
All of our last minute catering services are available as our kitchen schedule permits.
Exceptional food, unbeatable customer service and incredibly affordable prices – call Charlie's Catering today for your next event.
Check out some of the other events we cater.
We provide high quality food catering services to the cities of Milwaukee, Greenfield, Brookfield, Wauwatosa, Franklin, Hales Corners, West Allis, Waukesha, New Berlin, Oak Creek, and beyond.