Catering for Birthdays
Throwing a Great Birthday Party is Easy When You Serve Guests Delectable Food!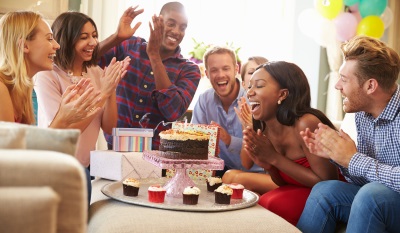 Hosting a birthday party can be a daunting task, especially if you're not prepared. Avoid throwing a lackluster birthday party for yourself, friend, or loved one. Hire one of Milwaukee's best caterers – Charlie's Catering & Company - to prepare and deliver a stress-free, flavorful selection of food your guests will delight in. We can make your job as hostess a bit easier while keeping your budget low. Choose from a multitude of delicious menu options, including those meeting dietary restrictions such as nut-free, vegan, gluten-free, kosher, and halal. We'll handle the food; you can focus on the guest list, venue, decorations, and entertainment. Catering birthdays for over a decade now, you can rely on Charlie's Catering & Company for great food, low prices, and on-time delivery.
Throwing a kid's birthday party? We've got you covered.
Our Milwaukee Catering Services Appeal to Every Appetite
Our catering services are perfect for any type of birthday party; offering excellent menu options means even the pickiest eaters at your party will be pleased. So celebrate your best friend, neighbor, or co-worker the best way we know how, with great food and drinks - place an order with Charlie's Catering & Company now! We also provide last minute catering for when you're throwing a party together with short notice or life and work are simply keeping you busy. Our menus are versatile, affordable, and add flavor satisfying any party guests' pallet.
Birthday Party Catering Food Ideas
While millions of people share the same birthday, everyone celebrates in a way that's unique to them. Planning a birthday party can seem easy because it revolves around one person, but as hostess, you're catering to the many appetites and dietary needs of all your guests too. Charlies Catering & Company can make accommodating everyone invited easy. When you're looking for great birthday party food ideas, turn to our mouthwatering menu options, including:
Breakfast, Lunch, and Dinner
Cold and Hot Appetizers; and Deli Platters
Buffets: Mexican, Gourmet, Sweet Baby Rays, and More
And Build-Your-Own Bars: Sandwiches, Chili, Baked Potato, Soup & Salad, and Ice Cream
Special Sides and Dishes Sold by the Pound
We also provide plates, silverware, and serving utensils for all guests so you can already check those things off your list.
Get food from the best catering service in Milwaukee!