Buffet Menu #1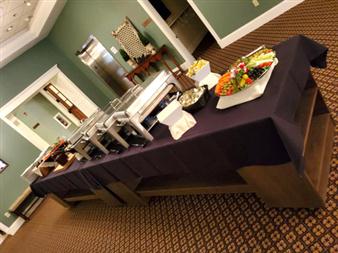 Choice of Meat Selections:
Sliced Baked Ham
Sliced Roast Beef
Baked Cod
Mixed Sausage
Baked Chicken
Choice of One Starch:
Mashed Potatoes/Gravy
Cheese Potato Casserole
Parsley Butter Potatoes
Rice Pilaf
Choice of Two Salads:
American Potato Salad
Taffy Apple
Broccoli Salad
7 Layer Salad
Italian Pasta Salad
Creamy Coleslaw
Oriental Cabbage Salad
Ramen Noodle Broccoli Slaw
Macaroni Salad
Fresh Fruit
Garden Salad w/Dressing
Choice of One Vegetable:
Whole Kernel Corn
Green Bean Almandine
Green Bean Casserole
California Blend
Choice of One Meat $15.00 Per Person
Choice of Two Meats $16.16 Per Person
Choice of Three Meats $17.31 Per Person
Above Menu Includes Fresh Vegetable Platter, Bakery Fresh Rolls and Butter.
Buffet Menu Option 1
This buffet-style dinner catering option can be customized to meet your specific tastes. Choose from any of our main entrée selections, and pick four additional sides to create the perfect dinner meal. Weddings, training seminars and other events, large or small, are no problem for Charlie's Catering team. We have been delivering freshly prepared food throughout Milwaukee for many years. Rely on us to make your next event delicious.
*Cans of Coke products and bottled water available at $1.14 each.