The Best Football Party Catering
Appetizers, Snacks, & Food Delivery in Milwaukee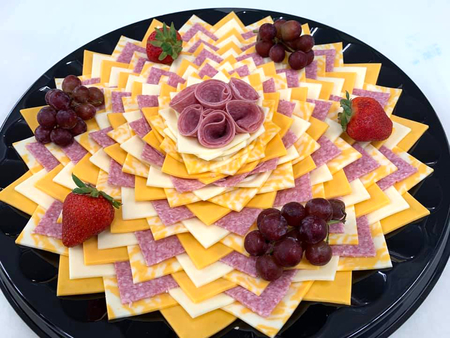 When you have your friends and family over this weekend to watch the game, invite the best football food delivery service to join you. At Charlie's Catering, we deliver within a 50-75 mile radius of Milwaukee; helping football fans around the city watch their favorite team while eating their favorite foods.

Easy & Delicious Football Party Food
Our catering menu makes putting on the perfect football party completely hassle-free. Charlie's Catering is known as the best local food delivery service to many football fans in the Milwaukee area – with great prices, fast delivery times, and a tasty food selection. We have a plethora of delicious and low priced foods to choose from, with menus including:
Breakfast
Cold & Hot Appetizers
Deli Platers
Lunches Under $7
Build Your Own Ice Cream Bar
By the Pound
Buffets:
Italian Buffet
Mexican Buffet
Boardroom Buffet (gourmet)
Buffet Menu #1 (baked cod and sliced hams)
Buffet Menu #2 (choice of meat, starch, two salads and a vegetable option)
Buffet Menu #3 (chicken marsala and stuffed pork chops)
Luncheon Buffet – this is the perfect lunch option for any occasion and event, featuring:
Cold Cut Sandwiches
Build Your Own Sandwich Bar
Chili Bar
Baked Potato Bar
Hot Ham and Rolls
Picnic Bar
Greek Bar
Soup and Salad Bar
Box Lunches
Hot Roast Beef and Rolls
Chicken Breast Bar
Sweet Baby Rays Buffet
Corned Beef and Cabbage
Italian Beef
Wisconsin Fish Fry
Cold Salad Choices
Custom Menu:
Kosher
Halal
Vegan
Nut Free
Chicken wings, lasagna, pasta, pasta salad, potatoes, roast beef, sloppy joes, steak, tacos, tuna and more are all options when Charlie's Catering caters your party.
Cheer on the Green Bay Packers or Your Favorite College Football Team with the Best Food
We provide the best catering and delivery services to football game parties all across Milwaukee County. Throwing your party in Oak Creek, Franklin, Cudahy, West Allis, Shorewood, Whitefish Bay, South Milwaukee, or St. Francis? Charlie's Catering is the best delivery option for you.
As long as you are within the 50-75 mile radius of Brew City, we can deliver to your home or business; with last minute catering available. Charlie's Catering has food delivery for college dorms, house parties, offices, and churches.
Get food for your next football party from the best catering service in Milwaukee!