Caterer for Business Meetings in Milwaukee
Charlie's Catering Company Creates Culinary Presentations for Work Events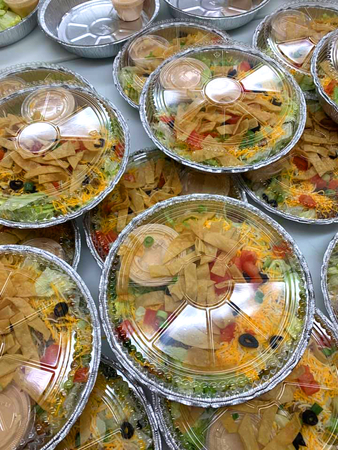 Playing host for a business meeting can add a lot of stress to your day. Fortunately, Milwaukee's best catering company serves appetizers, buffets, platters, desserts, and more for meetings in any professional setting. Whether you're hosting a small business session in-house or a national conference for hundreds, go the extra mile and provide delicious food to cap off the meeting experience. Your guests will leave with a mind full of inspiration and a stomach full of good food – provided by Charlie's Catering!
You can focus on your work while we focus on the food. Our catering company can cook delicious dishes for meetings focused around:
Nonprofit organizations
Corporations
Agencies
Government establishments
Charlie's Catering Company offers last-minute catering for meetings and delivery services for customer convenience. Contact our Milwaukee caterer for menu ideas for business meetings today.
Catering Ideas for Professional Meetings
Charlie's Catering Company provides a wide variety of delicious menus for business meetings. We recommend the following menu selections for morning, afternoon, or evening meetings – guaranteed to please palates of all kinds:
Want to make the meeting a little more festive? Choose one of our international cuisine buffets - Mexican or Italian – and shake up the regular office meeting routine.
The larger your meeting, the more dietary restrictions you'll have to address. You don't want any business partner to go hungry. At Charlie's Catering, we have custom menu options for diets of all kinds, including:
Kosher
Nut-free
Vegan
Halal
Whatever your appetite, our Milwaukee caterers provide the best culinary experience for business meetings of all sizes.
Get food for your next meeting from Charlie's Catering Company now!