Affordable Milwaukee Caterer for Baptism
Exceptional Catering for Every Religious Celebration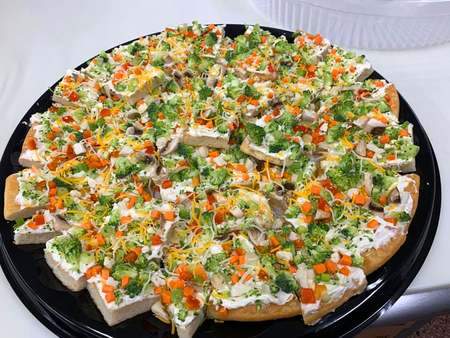 The professional Milwaukee caterers at Charlie's Catering Company have provided quality service and wonderful flavors to baptisms and christening parties within a 75-mile radius of the city. There's nothing better than celebrating this great day with family and full stomachs: let our chefs worry about the food, our caterers about the delivery, while you enjoy the festivities.
Select a menu from one of our buffet-style menus, including:

Dietary Restrictions and Allergies are No Problem
If you have any modifications to make on your menu selection, or dietary restrictions that need to be addressed, let us know and we'll customize your menu to fit your needs. We've customized menus to fit:
Nut allergies
Kosher lifestyles
Vegan lifestyles
The professionals at Charlie's Catering aren't afraid of a challenge: contact us with your restrictions or modifications.
Baptism Party Ideas
Hosting a baptism reception or christening party doesn't have to be stressful – the options through Charlie's Catering Company ensure that any party food need is met, big or small. Our affordable selections accommodate any need, so we've suggested some great options below to get you started:
Appetizers Only
After the baptism ceremony, gather family and friends at your house or any reception location (we deliver everywhere!) for quality celebrating time. We'll provide hot appetizers or cold appetizers so guests can have the freedom of socializing with friends and family while enjoying great flavors. Contact Charlie's Catering for pricing today!
The Most Important Meal of the Day
A morning ceremony calls for a delicious breakfast! Order from our breakfast catering menu, featuring your choice of pastries, omelets, breakfast sandwiches, and more. There's nothing better than hosting a morning christening reception with family and close friends.
On a Tight Budget
Tight budgets are our specialty! With our extensive menu options ranging in affordability, clients can order anywhere from fruit and veggie platters to desserts bars to full lunches under $7.00 to satisfy every guest without breaking the bank.
Hosting a christening party in a pinch? We offer convenient food delivery services and even last-minute catering!
Get food from the best affordable baptism caterer in Milwaukee!