Milwaukee Catering Delivery Services
Italian to Mexican with Custom Menu Options, Charlie's Catering Company Delivers the Best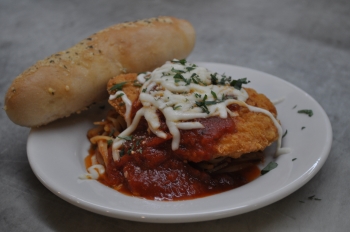 Are you looking for an experienced caterer who consistently provides quality food, dependable service, affordable prices and meets your delivery schedule? Look no further than Charlie's Catering & Company! We offer a wide variety of menu options, all customizable based on your specific tastes or dietary requirements, including but not limited to:
Kosher
Halal
Vegan
Gluten Free
Nut Free
We provide our clients with an easy, convenient way to enjoy delicious food at affordable prices. Our Milwaukee catering company delivers high quality food to businesses, event venues, home parties, picnics and meetings.

From planning a party in your home to ordering lunch for the office, Charlie's offers worry-free catering, allowing you to entertain friends and colleagues while dining on hot, cold or custom menu options.
For dinner parties and last minute get-togethers, to executive lunches and corporate training, let our experienced Milwaukee caterers handle the cooking. We have the perfect recipe to make your event a success.
Buffet Catering Menu Options
Charlie's Catering Company is run by hands-on chefs, with a focus on incredible customer service and appetizing food choices. We offer a wide selection of various buffet and per-pound menu options. From Italian and Mexican buffets to deli platters, finger food and even a build-your-own ice cream bar, the possibilities are endless with Charlie's Catering Company.
We invite you to browse through our menu options and contact us when you're ready to order or if you need a custom menu.
We cater parties and events in the Milwaukee area including:
Contact the professional Milwaukee caterers to place your order today or give us a call at 414-570-7500.