Wedding Catering Milwaukee
Making Your Big Day Easy & Delicious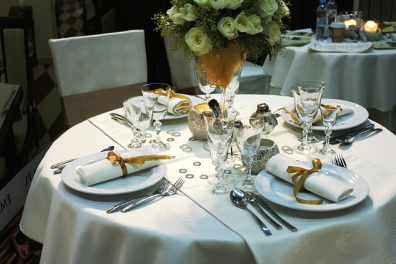 Your wedding should be a celebration filled with beautiful memories of dancing, rejoicing with friends and family, and incredible food. Let Charlie's Catering & Company reduce stress on your big day with amazing service, on-time delivery, and a mouthwatering selection of affordable catering options. Charlie's Catering is a great choice if you're keeping your wedding budget low with buffet-style catering at the reception.
Milwaukee Wedding Caterers Deliver Affordable, On-Time & Stress-Free Meals
Our caterers deliver within a 50-75 mile radius of Milwaukee, always delivering deliciously catered food on-time and at remarkably affordable prices. Offering reliable, trustworthy service and quality made food; our caterers are a favorite for Milwaukee weddings, big and small.
Perfect for Weddings on a Budget | Catering Menu Options & Prices
Your wedding should be an incredibly memorable day; don't let your guest list be limited by catering prices! Charlie's Catering & Company is an inexpensive catering option for weddings of any size. Choose from menus including:
Buffet Menu #1: $11.99 - $13.99 Per Person
Choice of Meat(s) - sliced baked ham, sliced roast beef, baked cod, mixed sausage, baked chicken
2 Salads, 1 Starch & 1 Cooked Vegetable
Includes Fresh Vegetable & Relish Platter, Bakery Fresh Rolls & Butter
Buffet Menu #2: $12.50 - $14.50 Per Person
Choice of Meat(s) - baked/fried cod, sliced pork loin with gravy, beef tips, barbequed ribs, baked chicken, red salsa pork chop, pesto chicken breasts
2 Salads, 1 Starch & 1 Cooked Vegetable
Includes Fresh Vegetable & Relish Platter, Bakery Fresh Rolls & Butter
Buffet Menu #3: $15.50 - $17.50 Per Person
Choice of Meat(s) – tenderloin medallions, stuffed chicken breast, carved turkey & gravy, Dijon pork tenderloin, stuffed pork chops, tenderloin beef tips
2 Salads, 1 Starch & 1 Cooked Vegetable
Includes Fresh Vegetable & Relish Platter, Bakery Fresh Rolls & Butter
Italian Buffet: $8.50 - $9.50 Per Person
Choose from: Italian Lasagna Buffet, Chicken Parmesan, Chicken Tetrazzini, The All Italian Pasta Bar
Mexican Buffet: $8.50 – $10.25 Person
Choose from: Enchilada Bar, Mexican Torte, Taco Bar, Fajita Bar
We also offer a variety of "build your own" bars for smaller, more casual weddings. If our menus don't suit your tastes, we'll customize one for you!
Download our Full Catering Menu
Catering Services for Engagement Parties, Rehearsal Dinners, and Wedding Receptions
Charlie's Catering & Company can assist you with any of your wedding related catering needs. We understand that your wedding is one VERY special day, and it's often preceded by a number of other memorable celebrations. So let our Milwaukee caterers reduce your food stress and create delicious appetizers, snacks, or meals for your engagement party, bachelor/bachelorette parties, and rehearsal dinner too!
Milwaukee Wedding Venues
From Traditional to Unique, Find the Wedding Venue that's Perfect for your "I Do's"
Find your ideal Milwaukee wedding venue to fit your personal style and wedding theme. From small, trendy weddings at Aloft to the classic style of the Horticultural Hall in Lake Geneva, Charlie's Catering will provide delicious, buffet style catering for your big day.
1451 Renaissance Place

1451 N. Prospect Ave, Milwaukee, WI 53202

The elegance and historical charm of Renaissance Place have made it a popular wedding venue for over 100 years. With room to seat up to 300 people, this venue is located right in downtown Milwaukee with off-street, private parking available. View the Renaissance Place.

Cuvée

177 N. Broadway, Milwaukee, WI 53202

Cuvée is located in the Historic Third Ward, and features modern, elegant décor. Their Champagne Lounge and cream city brick walls set in a lofted area accommodates seating up to 200 guests. Charming and intimate, you can have both your ceremony and reception in the loft. View the Cuvée venue.

Horticultural Hall

330 Broad Street, Lake Geneva, WI 53147

Located south of Milwaukee, Horticultural Hall is a scenic, beautiful wedding venue. Open year round, it accommodates up to 160 people. You can have both your ceremony and reception on site. Popular during summer, it features a stunning, private courtyard filled with flowers and ivy. View the Horticultural Hall venue.

Sprecher Brewing Company

701 W. Glendale Ave, Glendale, WI 53209

Featuring an indoor beer garden and seating for up to 125 (open house style can hold 250), Sprecher's unique banquet hall is a fun atmosphere. There are 15 hand crafted beers and 9 gourmet sodas available on tap. In true Wisconsin fashion, your rental includes a tour of the brewery. Learn more about the Sprecher Brewing Company.

Turner Hall Ballroom

1040 N. 4th Street, Milwaukee, WI 53203

Turner Hall is an elegant historical ballroom built in 1882, making it a romantic wedding location. This venue can host up to 400 people. Guests can park in two designated parking lots nearby, and will have access to the 2nd and 3rd floor of the ballroom. View the Turner Hall Ballroom.

Villa Filomena

1119 N. Marshall Street, Milwaukee, WI 53202

The beautiful, historic Villa Filomena is the perfect venue for an enchanting wedding. With outdoor and indoor options available, including the private garden terrace or Chandelier Ballroom, your big day will be unforgettable. Seating is available for groups ranging from 10 – 250+. View the Villa Filomena venue.

The Family Farm Wedding & Event Loft

328 Port Washington Road (County W), Grafton, WI 53024

The Family Farm Wedding & Event Loft has Cathedral Ceilings, Yellow Pine Floors, a fully licensed bar and a capacity of up to 220 people. Situated on a beautiful farm near Lake Michigan, and adjoining a gorgeous rustic bed and breakfast for convenient wedding night accommodations, The Family Farm Wedding & Event Loft brings your country wedding dreams to life. View The Family Farm Wedding & Event Loft.

Museum of Wisconsin Art

205 Veterans Ave., West Bend, WI 53095

The Atrium at the Museum of Wisconsin Art in West Bend is truly a blank canvas on which you can create the perfectly unique wedding reception of your dreams. It can easily accommodate 130 seated guests for dinner, and the surrounding grounds are spectacular. View The Museum of Wisconsin Art.

Pioneer Creek Farm

W4722 Superior Dr, Lomira, Wisconsin 53048

This beautiful farm sits on a gorgeous 80 acre estate, featuring, hills, pastures and woodland settings. The old red hay barn adds to the rustic feel of the surroundings, and the Main Residence is pure elegance. The breathtaking landscape alone is absolutely worth the drive out of the city. View Pioneer Creek Farm.
Contact the Milwaukee wedding caterers at Charlie's Catering for more information today.