Corporate Catering Services
Breakfast, Lunch and Dinner Catering Services for Businesses in the Greater Milwaukee Area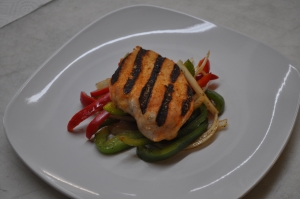 From weekly training sessions to annual board meetings, local businesses rely on the chefs at Charlie's Catering & Company to provide superior food for corporate events. Everything from small networking events and huge teaching conventions to three-shift employee catering is available at affordable prices. Our large menu is full of appealing menu options, sure to please everybody. Truly discerning employers can even create their own custom menus and the chefs at Charlie's Catering & Company will oblige.

We understand corporate needs and consistently deliver high quality food with excellent presentation at great prices. Providing lunch for dozens, hundreds or even thousands of employees everyday can be expensive. Don't sacrifice quality for affordability, take advantage of our delicious lunch options priced for less than $7.00/person.
Made to Order Catering

Charlie's Catering & Company is passionate about making each and every order to your exact requirements. If your boss is in the mood for an item not listed on our menu, give us a ring! We're happy to customize our menu based on your specifications, whether it be for Kosher, Halal, vegetarian or gluten-free options. Corporate catering services from Charlie's leads to happy employees and satisfied executives.
Let Us Cater Your Corporate Event
At Charlie's Catering & Company we treat each and every catering job professionally; priding ourselves on delivering delicious food, when expected to businesses in Milwaukee. Our gourmet menu is extensive, versatile, and perfect for any corporate meal. Whether it's for a holiday party, company picnic/luncheon, late-night snack to meet a deadline, product launch event, after-work cocktail party, sales meeting, or large scale convention, we have a dedicated catering staff that will ensure your corporate event goes off without a hitch. We provide flawless customer service and elegant presentation to impress even your top clients. A delicious meal can show appreciation for your hardworking staff, that their creativity is paying off and you have acknowledged their efforts. A fun gathering with delicious food and drinks encourages conversation and can be a great way to refresh and recharge your staff for a productive work week.
Low Cost, Big Flavor – Catering for Office Parties & Celebrations

Whether you have a strict corporate meeting or a more casual work luncheon, Charlie's Catering is just what you need to deliver a memorable, quality meal. We offer a variety of menu items including buffets and "build your own" bars to satisfy any client or dietary needs. Prompt and delicious food can leave a leave an impression and represent your business; our Milwaukee caterers will make it a great one. You can have a stress free day knowing that everything will be organized, handled, and running smoothly with our skilled professionals on the job.
Need help finding a catering friendly venue? We got that covered
too. Below we have listed a few of our favorite corporate event venues, perfect for all your catering needs.

Corporate Event and Meeting Locations with Bring Your Own Catering
Grace Center
250 E Juneau Ave.

Milwaukee

,

WI

53202
The Grace Center is open to all non-religious corporate and social event types from business meetings to holiday parties. There are a few facilities available to accommodate the size of your event. The Great Hall is the largest room in the Grace Center, and seats between 250-300 people. This room also features a retractable screen and projector. The Classroom seats about 45 people. The Grace Place Coffee Shop has room for about 30 people. The Atrium can hold up to 175 people. These rooms allow you access to free wireless internet. View the Grace Center facilities.
Quality Inn
20150 W. Bluemound Road, Brookfield, Wisconsin 53045
The Quality Inn has plenty of space for corporate business meetings, team meetings and training sessions. Their meeting room allows you access to free wireless internet, whiteboards, conference phones and a projector screen. This venue is able to accommodate up to 60 people, and allows outside catering. View the Quality Inn meeting room.
Splash Studio
184 N. Broadway,

Milwaukee

,

WI

53202
Splash Studio in Milwaukee is a great place in the historic third ward for corporate events. This space allows outside catering and can hold up to 80 people for a social gathering or meeting. Splash Studio also provides multimedia meeting equipment. Your private corporate event can be held any day of the week. View Splash Studio.
Schlitz Audubon Nature Center
1111 E. Brown Deer Rd.,

Milwaukee

,

WI

53217
The Schlitz Audubon Nature Center offers four event spaces to fit the size of your private corporate event. The auditorium fits up to 100 people seated at tables or 175 seated at chairs. The conference room seats up to 24 people. The great hall seats up to 200 people seated or 225 people standing. The outdoor pavilion fits up to 200 people. View the Schlitz Audubon Nature Center.
South Shore Pavilion
2900 South Shore Drive

Milwaukee

,

WI

53207
The South Shore Park Pavilion has two rooms for hosting large or small groups. The rooms can hold up to 210 people, and feature tables, chairs, a PA system, and a lectern. The Pavilion is available for private corporate meetings and events year-round. View the South Shore Park Pavilion.