Cold Appetizers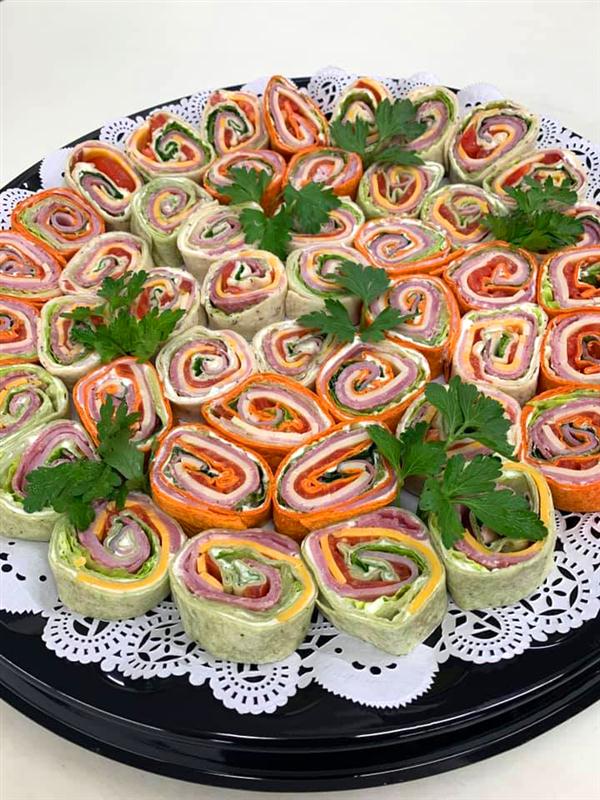 Tortilla Pinwheels:
A Variety of Meat, Cheese, Tomato, Lettuce Wrapped in Tortillas Cut in Mini Slices
$12.09 Per Dozen
Deviled Eggs:
Chef Charlie's Tasty Deviled Eggs, Attractively garnished
$12.09 Per Dozen
Vegetable Pizza:
A Variety of Fresh Vegetables Diced on Seasoned Cream Cheese And Placed on a Pastry Crust
$12.09 Per Dozen Squares
Spinach Dip with Bread Round:
Bakery Bread Round Hollowed out and Filled with Spinach Dip
$34.09
Taco Dip Tray:
Seasoned Cream Cheese Topped with Cheddar Cheese, Shredded Lettuce, Chopped Tomato, Green Onions and Black Olives. Served with Tortilla chips
$34.09
Mini Hard Roll Sandwiches:
Bakery Fresh Mini Hard Rolls Filled with Your Choice of Our Deli Fresh Meats And Our Homemade Salads Includes Condiments on the Side
$31.35 Per Dozen
Cold Quesadillas:
Flour Tortillas Filled with Melted Monterrey Jack Cheese and Green Chiles. Garnished with Sour Cream Floweret, Green Onion and Tomato
$10.18 Per Dozen
Shrimp Cocktail Platter:
Large Peeled Shrimp Served with Our Special Cocktail Sauce
50 Shrimp @ $81.94
Italian Skewers:
Hard Salami, Ham, Red Onion, Pineapple, Tortellini and Cheese attractively arranged on Skewers
$14.29 Per Dozen
*Cans of Coke products and bottled water available at $1.09 each.
Milwaukee Cold Appetizer Catering
For your next special event catering, rely on the professional Milwaukee caterers at Charlie's for delicious food, delivered on time. Our cold appetizers are a popular option for finger food at a wedding reception or as a snack at a corporate-sponsored event. Choose from some of our most popular items, like the shrimp cocktail or the spinach dip. We are also happy to offer custom menu options. Simply give us a call today to cater your next event.
Get cold appetizers for your next event from the best caterer in Milwaukee today.